2 VINYLS BOX THE CANETTI YEARS + 2 CD
15.00€ VAT included
2 VINYLS BOX + 2 CD
Original versions, high resolution mastering
Texts and photos
The 3 Baudets theater historical posters (1947-1967)
2015: Jacques Higelin at the Philharmonie de Paris, Léo Ferré at la Comédie Française, Juliette Gréco on tour throughout France, Jacques Brel at the Prague National Theatre, Edith Piaf centenary in December, Charles Trenet re-enchanted by Benjamin Biolay, Brassens revisited by Alexis HK …
Here are some happy events-songs that mark the coming weeks.
All are linked to the "Canetti Years" those legendary years that saw France emerge songwriters and performers.
We are in 1950 and the territory of that expression is not a country but a language : French.
A new singing movement is born. Rebel, dissident, anti-military, carried by Trenet, Lemarque, Brassens, Brel, Leclerc, Béart, Ferré, Aznavour, Vian, Gainsbourg, Sylvestre, etc.
A visionary artistic director, Jacques Canetti, will meet in their infancy all these "unknown" and create the conditions for their development, whether on disk, in the Theatre of the 3 Baudets or touring. He will build patiently – but surely! – The careers of these legends of the song.
Françoise, daughter of Jacques Canetti, lived these "Canetti Years" and revive them for you in this package that brings together the most representative songs of this period, in their original version remastered for an unequalled sound quality.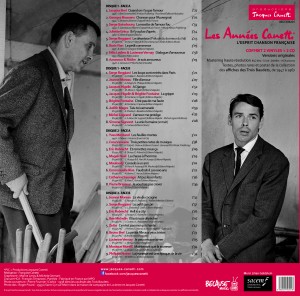 It also features a large poster made with the historical posters of the 3 Baudet Theatre (1947-1967), where most of them started: What show did Jacques Brel, Boris Vian and Jean Yanne meet ? What show sealed the friendship between Félix Leclerc and Raymond Devos ? When Henri Salvador and Georges Brassens shared the same bill ? With whom Serge Gainsbourg did start?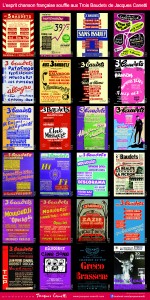 This double vinyl + double CD box tells the story of the French song writers through the discoveries of Jacques Canetti and the gems of his label. A must-have for French music lovers !
In stock
Description
---
Additional information
| | |
| --- | --- |
| Weight | 0.200 kg |
| Dimensions | 13 × 0.5 × 13 cm |